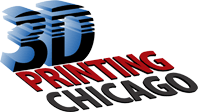 3D&nbspPRINTING&nbspCHICAGO
3D printing labs and design services for everyone.
About Us
Who and What is 3D Printing Chicago?
3D Printing Chicago is a small business owned by David Siegfried, a self-employed entrepreneur and member of the Chicago maker community. David has been in computer graphic arts since 1989, runs an eBay store specializing in video and photography gear, and is an avid home brewer, photographer, and musician—a maker of lots of fun and exciting projects.
With access to five 3D printers and more to come, we hope you will take advantage of our service and expertise. By opening up our 3D printers to the world, we hope to help you to create, to share, and to turn your ideas into physical reality. Please don't hesitate to contact us any time!